Pride Festival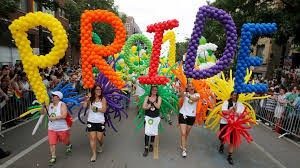 Celebrating their 37th year, The LGBTQ community and their allies, are rallying together in a two-day long celebration, to honor and commemorate their struggles and celebrate love and acceptance.
The festival is a burst of color and life. It is full of nothing but positive vibes. Over 35,000 people attend the event each year. With over 2,000 participants; the parade itself starts at 3rd street and ends at Steele Indian School Park, where the heart of the festival continues. The parade includes vibrantly decorated floats, vehicles and cheerful and dancing walkers.  They even accommodate the parade with an American Sign Language interpreter throughout the event.
Aside from the parade, is the actual festival. There are 150 performances scattered across five main stages, featuring headlining acts from Berlin, Bebe Rexha, David Hernandez and hundreds more. They feature 350 gourmet food trucks, art vendors and even a cute space for your kids! They also offer dance classes from Dance Pavilion where you can learn a variety of dance styles.
The Pride Parade takes place April 7th and 8th; starting from 12:00pm and ends at 9:00pm. There is neighborhood and structure parking available but is limited. It is recommended and easier to take the light rail or an Uber. They even provide a designated area (near the entrance) specifically for Uber pick-ups and drop offs. The price of admission varies on your age; how many days you are attending and if you want VIP treatment, prices range from $15 – $71. Children under the age of 12 get in free and teens (13-17) get discounted prices or, if you volunteer a minimum of four hours you get free admission! Most of the money raised goes to beneficial Pride community programs and outreaches. For more information; you can visit https://phoenixpride.org.
This Parade is an exciting and inspirational celebration of love and acceptance and I welcome and recommend you attend.
Kenzie Barrena is a nineteen-year-old freelance writer residing in the sunny city of Phoenix, in Arizona. Since the age of ten, she has grown up writing stories for her friends and classmates and even won awards for her pieces. She eventually decided to turn her passion into a career and will be furthering her education by starting her degree in Journalism this summer. Aside from writing, in her free time she enjoys playing instruments, such as the piano and guitar; reading, and spending time with her loved ones. She listens to music and plays video games religiously and also enjoys writing poetry!