Postino's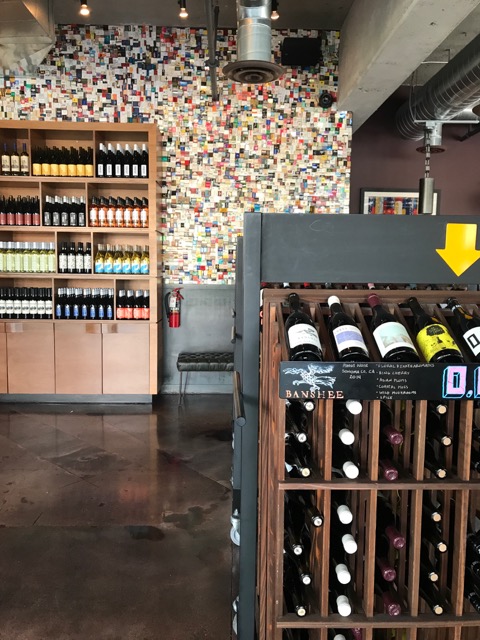 Walking into Postino's one would note the dimmed lights, a wall made entirely of different matchboxes, I'm thinking to myself "how neat". To my right are the bar and several wine racks with quite the selection of bottles for purchase. To the left is the rest of the dining area and the way to the patio, where I found myself sitting. The patio has orange umbrellas at each table, cacti planted around the area, as well as succulents, and other plants.
It has a mellow and relaxing vibe, perfect to sit and have endless glasses of wine, the room filled with great conversation. The waiters and waitresses I see pass by are all dressed very unique and to their own style. Postino's is an original yet artsy wine lounge. Playing Two Door Cinema Club and other alternative music gives it a somewhat hipster vibe.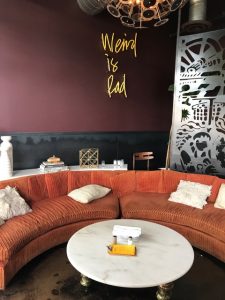 Postino's, which is located off of 4821 N. Scottsdale Road, is known for their daily happy hour, which is $5 for any wine and beer until 5 pm. The concept is designed to be shareable food and a social atmosphere. You can choose 4 options out of 12 for a board of Bruschetta. This is the most popular food choice. They have options such as a standard; Tomato, Mozzarella, and Basil Bruschetta, Brie and Apples with Fig spread, Warm Artichoke spread, Sweet and Spicy Pepper Jam with Goat Cheese, Smoked Salmon with Pesto.
The bruschetta isn't your standard thin piece of bread; Postino's is amazing because the bread is very thick and soft with all of the toppings added on top, making it very filling. Each piece of bread is cut into four pieces so it's easy to share, and eat. I find my self only able to eat two pieces, as four is just way too much food. The warm Artichoke spread is so rich and creamy and is my favorite one. I love the Brie and Apples with Fig spread too because the creamy taste of the cheese mixed with the sweet apple makes for a savory taste and really compliments each other well.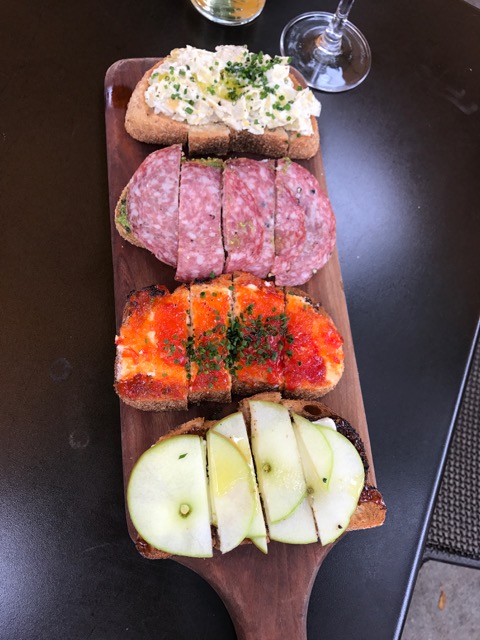 If you feel like something different than bruschetta they have multiple Panini options to choose from, as well as salads. They also have standard appetizers like meat and cheese boards, a mixture of grilled vegetables like Cauliflower and Asparagus, or a Pub board that includes soft pretzels.
This trendy wine lounge has multiple wine options for you to pair with your food. I love the Stagedive Pino Noir or if I'm in a white mood the Holly's Way Chardonnay is delicious as well. They also have many other wine selections such as, Montepulciano's (which I find hard to find at other restaurants), Oniric Xarello, Multiple Rosé's like L'Excellence, and Fruitiere which is a Melon-Sauvignon. As you can see the many wine options they offer, and the list still continues. On Monday and Tuesday evenings after 8 pm they have an awesome special where you can choose any bottle of wine from the wine list and any 4 pieces of Bruschetta for $20! It's an amazingly special and you bet this place gets packed so make sure to arrive early!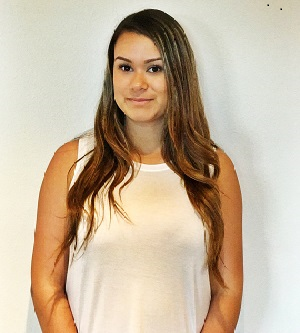 Nicole is a 22 year old Nanny in Scottsdale, Arizona. Aside from nannying she loves writing and hopes to start her own blog one day. Nicole is originally from Highlands Ranch, Colorado; a suburb outside of Denver. She attended Highlands Ranch High School and graduated in 2013. Taking a year off after High School to figure out her future endeavors, she finally made the decision to move to Scottsdale in August of 2014. She started taking classes at Scottsdale Community College and then is when she found her passion in writing. Nicole has the cutest 2 year old dog that she loves taking on hikes around the valley. Aside from that she is always discovering the newest concepts and trends in Old Town Scottsdale, in hopes to share them with others!