Farm and Craft
Who said being healthy had to be boring? Farm and Craft finds new ways to make healthy foods exciting and innovative. Farm and Craft are located off 4302 N Scottsdale road, right in the heart of Old Town Scottsdale.
It is a very trendy and modern restaurant focused on all healthy ingredients. From kombucha infused cocktails to flatbreads made with flax and whole wheat dough. Every bite of food tastes so fresh your mouth will be watering for more.
Farm and Craft's focus is to provide sustainable healthy foods, if you are gluten-free this is the place for you as all the ingredients are gluten-free, organic, and hormone free!
My personal favorite is the Farro Mac and Cheese! It is a white cheddar garlic cheese sauce covered on top of farro, and let me tell you- throw some chicken on it and it is delicious! The bartender who served me at the bar told me her favorite dish is the Tocoa Steak Bowl (grass-fed steak, farro, corn, tomato, sweet potato, black beans, caramelized onions, cilantro vegan slaw and avocado). They also offer Chicken Sausage Pasta, Grass-Fed Burgers, Flat Iron Steak, and Salmon bowls. Healthy eating is the new fad ladies and gents, especially here in Scottsdale!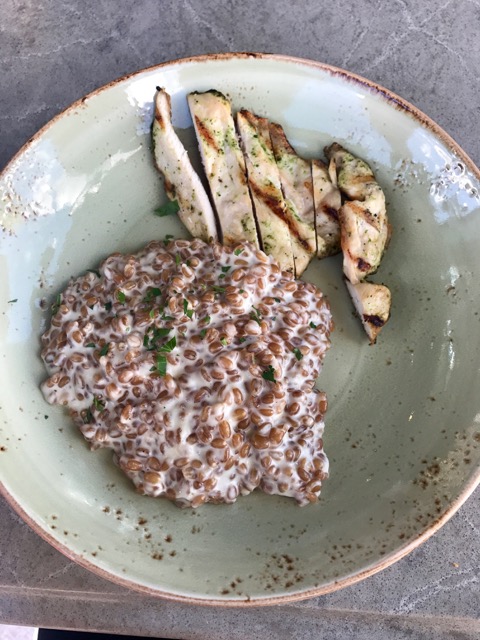 In this trendy, cute, modern restaurant that has a small tree (yes you read that right!) in the middle of the restaurant to add decoration, with blue and white painted brick walls you can find yourself ordering tasteful drinks out of a Watermelon or Grapefruit! The Forbidden Fruit cocktails are what this place is known for!
You must come to Farm and Craft and get the Spicy Melon (Hanson's Habanero Vodka) blended inside of a watermelon! Get your cameras ready to post your cute watermelon picture on your Facebook and Instagram news feed to make all of your friends jealous! Or- if Watermelon or Grapefruit drinks aren't your thing, you can try one of their specialty Kombucha cocktails!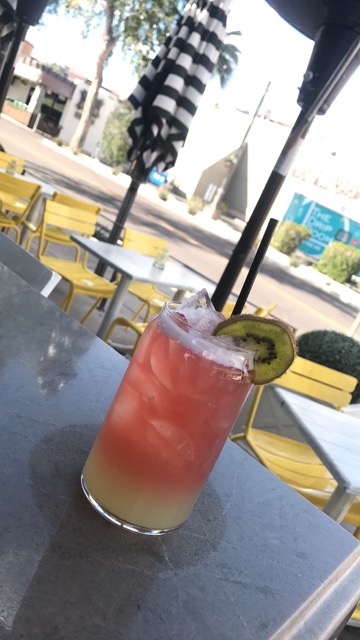 I tried the Kombucha and Cucumber (Pinnacle Cucumber Vodka, Elderflower, Lime juice, Kiwi, Ginger beer, and 1 oz Kombucha) and let me tell you, this drink was phenomenal, the Kiwi and the Ginger beer combined for a refreshing pop, with the Elderflower and Lime juice adding a citrus sweet combo, YUM! I have not tried a more refreshing cocktail! This drink is featured on their Happy Hour menu for only $8, starting at 2 pm until 6 pm Monday-Friday and then a reverse Happy Hour 9-Close Friday and Saturday. Talking about how trendy this place is they even have four local beers on tap, as well as one Kombucha, two wines, and one Rosé! (P.S. the Rosé is on the happy hour menu for $5, you're welcome).
If you want to go try amazing, yet healthy food, sit at a table either indoors or outdoors and listen to mainstream upbeat pop music while drinking a Kombucha cocktail, this place is the place for you! Go check them out and you will thank me later!
You will want to start out your Friday night here enjoying amazing food, great cocktails, and a positive trendy atmosphere! The owners sought out every little detail from the looks of the restaurant to the hand-crafted food and cocktails, Farm and Craft will not disappoint!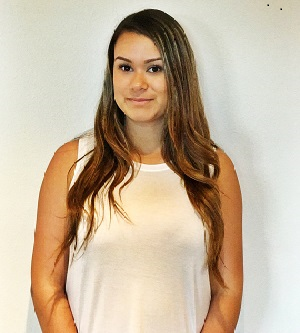 Nicole is a 22 year old Nanny in Scottsdale, Arizona. Aside from nannying she loves writing and hopes to start her own blog one day. Nicole is originally from Highlands Ranch, Colorado; a suburb outside of Denver. She attended Highlands Ranch High School and graduated in 2013. Taking a year off after High School to figure out her future endeavors, she finally made the decision to move to Scottsdale in August of 2014. She started taking classes at Scottsdale Community College and then is when she found her passion in writing. Nicole has the cutest 2 year old dog that she loves taking on hikes around the valley. Aside from that she is always discovering the newest concepts and trends in Old Town Scottsdale, in hopes to share them with others!