Just Peachy: Peach Festival Schnepf Farms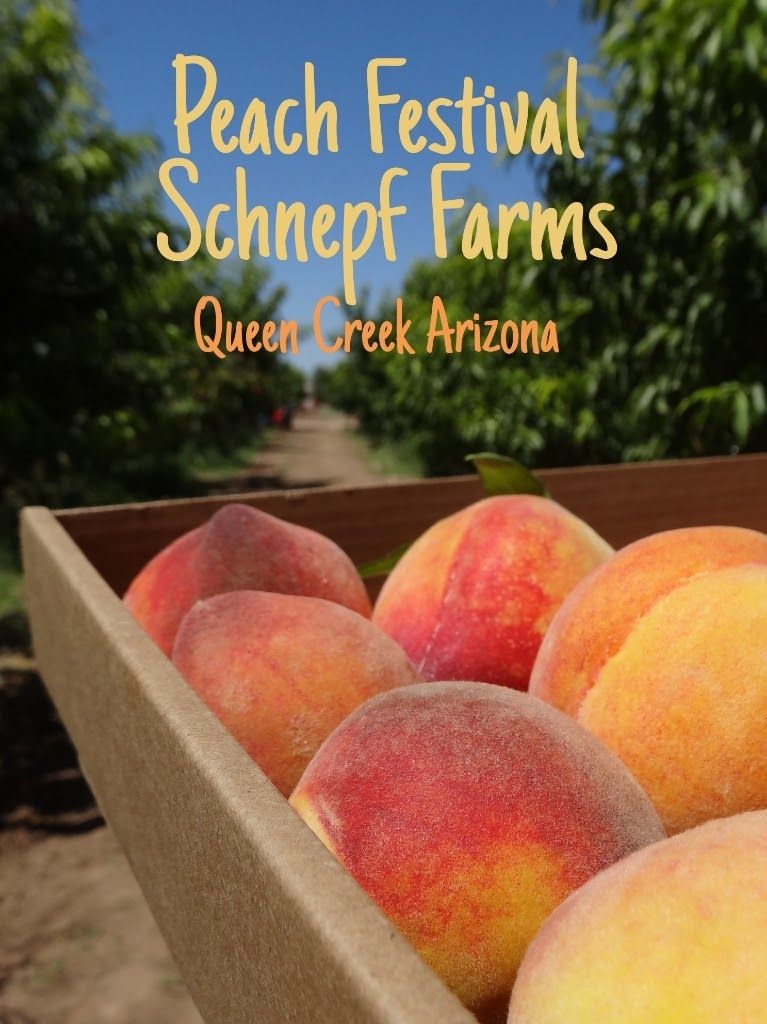 Get sticky and enjoy the sweet and rich flavor a peach brings at Schnepf's Farms' annual peach festival; a yearly festival focused on the celebration of the softest, and sweetest fruit- a peach. Here you will enjoy a variety of peach dishes; both sweet and savory, all while enjoying a beautiful sunny day in Arizona.
You can start off your morning bright and early with a to die for, "Peachy Pancake Breakfast", a 9''pancake with freshly picked and cut peaches, whip cream and other delicate toppings with a side of sausage. (Tip: you can order a gluten-free pancake option as well)! After you devour your breakfast you can stroll through a beautiful orchid and sample other various peach centered dishes such as; peach syrups and preserves, salsas, their famously known peach cinnamon rolls and several more!
Not only do you get the pleasure of enjoying all these dishes, but for only $3 dollars a ride, you can enjoy a relaxing stroll on a fun hayride in the shaded orchards. You can even go and pick peaches fresh off of the tree to take home to you and your loved ones! Every dish made during the festival is homemade and made from freshly cut, and not frozen peaches, and the fruit itself is pesticide-free, organic and the country's best peaches according to Wine Spector Magazine! And although there are a few lines to go through, it is a great opportunity to meet new friendly faces and enjoy the scenic view around you.
The event takes place at the beginning of summer on May 11th and ends May 13th from 7:30 A.M. to 4:00 P.M. Since it is a sunny day in Arizona, I highly recommend wearing sunscreen to save yourself the pain of a sunburn as the event does take place outdoors in the farms' orchard (though there is plenty of shaded areas). As crazy as it sounds, the price of general admission is only $5 dollars, and children 12 and under are free (an incredible bargain). You can purchase tickets at; https://www.schnepffarms.com/peach-festival/?v=7516fd43adaa. I welcome you all to attend and have a peachy keen time!  
Kenzie Barrena is a nineteen-year-old freelance writer residing in the sunny city of Phoenix, in Arizona. Since the age of ten, she has grown up writing stories for her friends and classmates and even won awards for her pieces. She eventually decided to turn her passion into a career and will be furthering her education by starting her degree in Journalism this summer. Aside from writing, in her free time she enjoys playing instruments, such as the piano and guitar; reading, and spending time with her loved ones. She listens to music and plays video games religiously and also enjoys writing poetry!