Culinary Dropout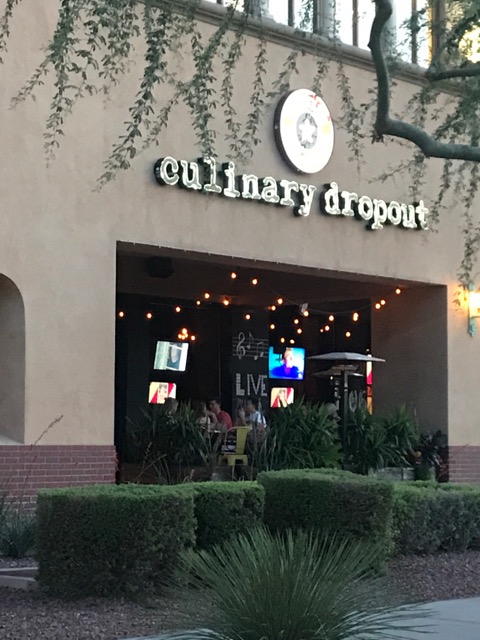 Looking for a place with great food and a great atmosphere to bring your group of friends and enjoy a few cocktails? Stop by Culinary Dropout and you will experience just that. The atmosphere is social hour driven by an amazing food concept. You will find Tv's spread throughout the dining area for sporting events of the night, and a stage at the front of the restaurant for live music on the weekends. This hip restaurant is the place to go to enjoy your Friday night!
The interior of the dining area is dimly lit with large antique crystal chandeliers (one of my favorite parts of the restaurant), decorated with a Bob Marley mural on one wall of the restaurant. The chairs all have different unique patterns such as green and blue plaid, leather vibrant green studded chairs, and velvet flower patterned chairs spread throughout each table to accentuate the vintage theme. The walls adjacent to the Bob Marley wall have a rustic look and bring out the character of the restaurant. Each table is lit with a small candle to add extra light to the dining area. The music playing in the background switches from Rock, Indie, house, to 80's music.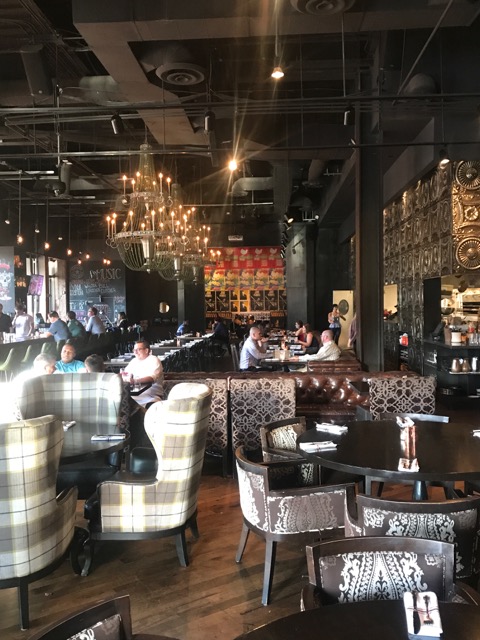 Each server I see passing by my table is dressed trendy and unique to their own style.  Each one passing by has a smile on their face, as the customer service here is very inviting. The patio is secluded off with tropical plants hiding the street view, all lit with the same small candles as the inside. There is a long booth that wraps around the edges of the tropical plants and is almost like a twine material with a blue and vibrant green mixture. On the opposite side of the booth are all bright yellow chairs that bring attention to the outdoor area. On the left side of the patio are several hightops with larger yellow chairs perfect for larger parties and to enjoy the beautiful outdoor weather. The bar is half indoors and half outdoors so you can pick your preferred seating choice.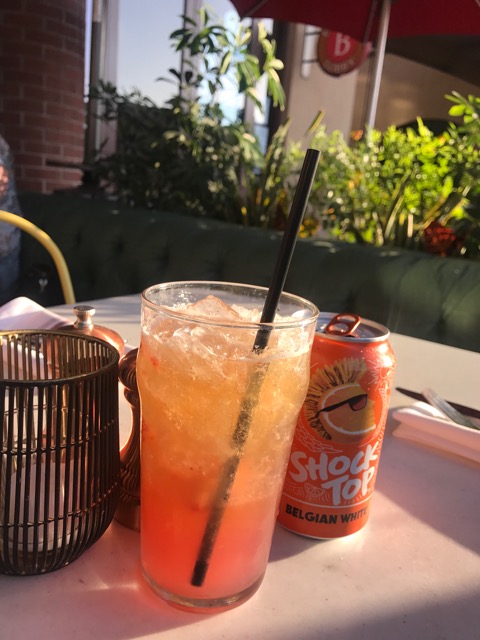 The food here is my favorite food in Scottsdale. The menu is a chef inspired menu and each item with double red stars are the Chef's favorites. These include the Soft Pretzels and Provolone Fondue (topped with sea salt, and the cheese sauce is served with a miniature fire pit underneath to keep it warm), and the 36 Hour Pork Ribs (jalapeno, molasses, and fries). The ribs are so tender they fall right off of the bone and the sauce is so flavorful you can taste the smoky BBQ. The appetizers consisted of warm garlic oil and balsamic bread where you can choose from several types of meat and cheeses to create your own breadboard. There are also several other small snacks such as deviled eggs and green chile cornbread. If you want something more on the lighter side there are several healthy salads like the Garden Kale (brussel sprout, sweet potato asparagus, pine nut, parmesan, lemon tahini vinaigrette) and the Seared Tuna Salad (cashew, ginger vinaigrette, wasabi pea, cucumber, red pepper, and avocado). If your in the mood for something more heavier they have their famous Mac and Cheese Burger. Yes, you heard that right. A burger topped with Mac and Cheese, Onion, Lettuce, and Pickle. Or if that seems too much for you there are several sandwich options like the Turkey Pastrami (pretzel roll, swiss, coleslaw), Grilled Chicken Club (ham, bacon, Havarti cheese), and my personal favorite the Shaved Prime Rib dip (fontina, au jus). It is so tender and juicy and the au jus sauce adds the perfect sweet and savory flavor. Top it with grilled onions and, oh my, it is delicious.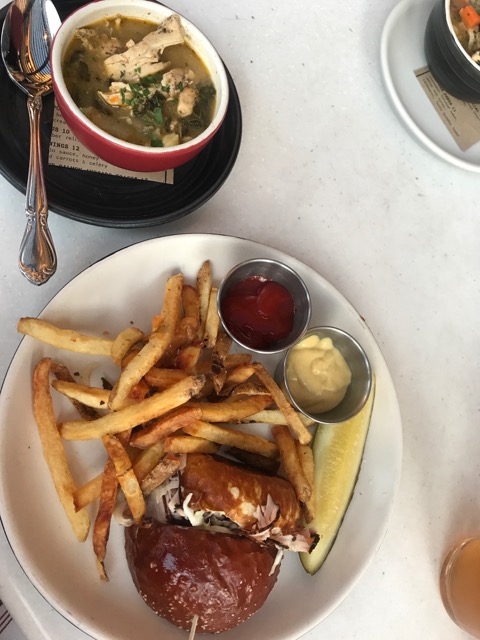 All cocktails are house-made and muddled to perfection. Each drink has a unique name such as the Between You & Me (Belvedere vodka, grapefruit, cranberry, and lemon), Room Service (Plymouth gin, strawberry simple, lemon, and prosecco), and the last but not least Czech the Gate (rye, Becherovka, orchard pear liqueur, and lime). If you are in the mood to drink a little bit more than usual than I recommend trying what I call the never-ending drink. It is actually called the Deviant Behavior and that is (Ketel One Vodka, strawberry, lemon, and Shock Top Belgium White). It is fruity, but not too sweet. The beer adds more of a bitter taste toning down the sweet taste from the fruits. When first served the beer is only topped off about 1/4 of the way and then as you drink you have the can to keep filling in more beer as you drink more down, making it the never-ending drink and my personal favorite. Enjoy one of these next Friday night with your group of friends and your night will be off to a great start!
Nicole is a 22 year old Nanny in Scottsdale, Arizona. Aside from nannying she loves writing and hopes to start her own blog one day. Nicole is originally from Highlands Ranch, Colorado; a suburb outside of Denver. She attended Highlands Ranch High School and graduated in 2013. Taking a year off after High School to figure out her future endeavors, she finally made the decision to move to Scottsdale in August of 2014. She started taking classes at Scottsdale Community College and then is when she found her passion in writing. Nicole has the cutest 2 year old dog that she loves taking on hikes around the valley. Aside from that she is always discovering the newest concepts and trends in Old Town Scottsdale, in hopes to share them with others!