A Walk Into Culture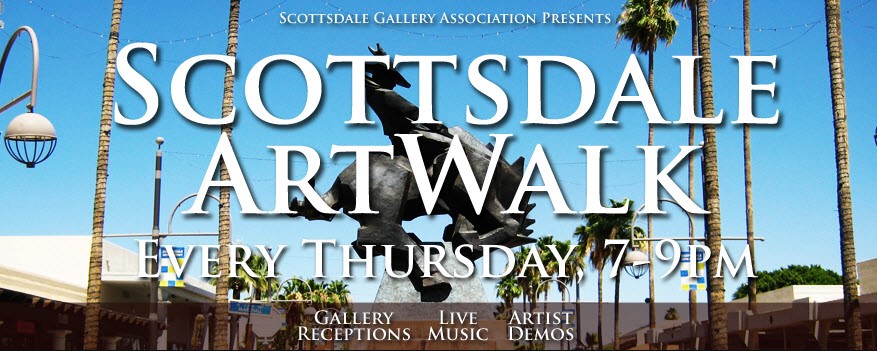 Open year-round, and free every Thursday night from 6:30 – 9:30 pm, The Scottsdale Art walk is an incredible and unique event great for all ages (including your little ones). For forty years, this art show has been entertaining hundreds of tourists and locals every single week.
The Scottsdale Art walk is a local event that shows off the incredible art from talented, local artists. You can stroll through up to one hundred beautiful galleries and shops; and peruse an artist's craft. The walk has vast styles of art that come from different cultures. Many of the artists use Native American, Russian and Western culture subjects. Some artists even offer Demos, where you can learn about and watch them demonstrate different techniques they use in their art.
As you make your way down Main Street, you will notice the booming energy and life. Everyone is laughing, smiling and chatting amongst themselves. A trolley and horse-drawn carriage made its way up and down the walk, giving out free rides to guests. If the trolley isn't for you, they also have golf carts available for you to use as well. There are INCREDIBLE food trucks and live music to vibe to, looking at the sky you'll notice flowing rows of rustic string lights hanging from dark wood trees.
Among the art are captivating statues, water fountains and award-winning restaurants for you to enjoy; and even a wonderful theater for you to stop and enjoy a show. They also offer Valet parking on Main Street and have an abundant amount of free nearby parking available for you.
Since 1975, people have been enjoying and attending this local event. There is so much to learn about and discover while venturing down the main street. Whether you're coming for the art, the food or even the live music, there is something for everyone at this art walk.
Kenzie Barrena is a nineteen-year-old freelance writer residing in the sunny city of Phoenix, in Arizona. Since the age of ten, she has grown up writing stories for her friends and classmates and even won awards for her pieces. She eventually decided to turn her passion into a career and will be furthering her education by starting her degree in Journalism this summer. Aside from writing, in her free time she enjoys playing instruments, such as the piano and guitar; reading, and spending time with her loved ones. She listens to music and plays video games religiously and also enjoys writing poetry!